Jaime Knowles
Founding Member, Owner, Co-Creator & Director of Training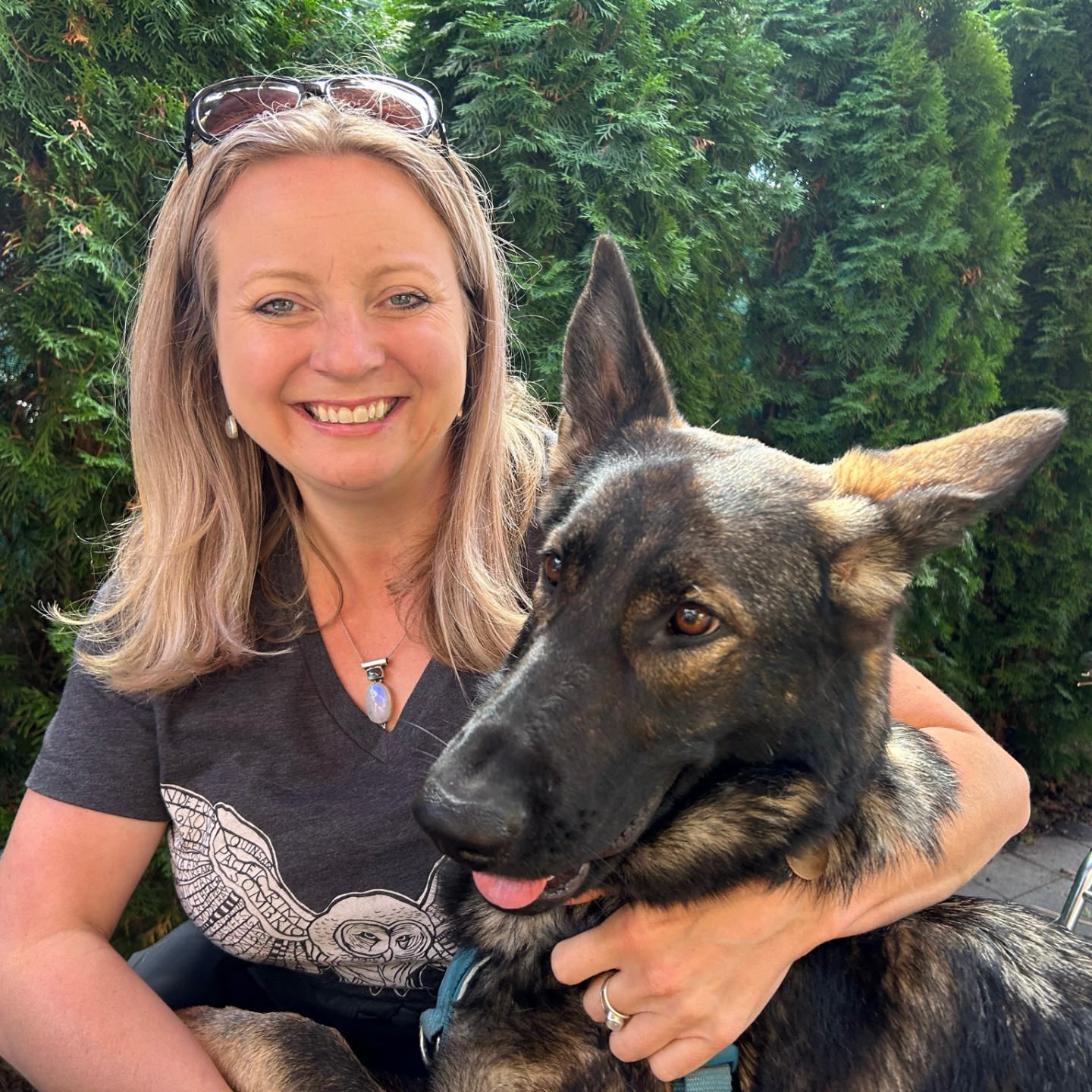 Jaime has a love and understanding of all animals, but a special place in her heart has always belonged to dogs. She has been professionally training and handling all breeds and temperaments of dogs since 1998. She attends ongoing seminars and is constantly updating her education to broaden her knowledge as she believes that you never stop learning when working with animals.
Jaime is currently the Senior Trainer and Behaviour Modification Expert for Good Dog Wellness, specializing in anxiety, reactivity and other challenging behaviour cases.
While competing in CKC obedience and conformation Jaime has earned titles on several breeds of dogs. She has trained and handled dogs for television and major motion pictures. Her own dog Atty has obtained her IPO BH title, PSA PDC-SD and PDC title and was a validated patrol and narcotic detection K9.

Jaime is a validated explosive detection K9 handler, validated narcotics detection K9 handler and a validated security patrol K9 handler through the Justice Institute of BC. She has vast experience raising and training both detection and patrol dogs. 

Jaime was a proud member, trainer and handler with Canines 4 Care team at Vancouver General Hospital where a program that trains dogs to detect C. difficile with high accuracy was developed.  The program was awarded the Top Innovation award for 2018 at BC Health Care Awards.
Currently Jaime shares her life with Atty (Belgian Malinios), Dozer (Pitbull x), Guinness (GSD x ACD), Teddy (all Canadian mutt), Tahsis (GSD).
Geri Patz
Founding Member, Owner, Co-Creator, Registrar & Director of Curriculum Development
Being open to people and questions while organizing 'everything' has always been important to Geri. Adding a lifetime of being a dog lover makes the Administrator and Registrar positions for Good Dog Academy the perfect fit. 
Keeping Good Dog Academy's Learning Management Software system, Kajabi, operating at its best requires continuous focus and skill. 

Having the ability to problem-solve and innovate is also key to her success

. 
Her Instructor Diploma and work as Director of Curriculum Development puts her education and knowledge to good use. Connect with Geri at anytime to find solutions.
Heather Grandy
Founding Member and Co-creator
Based on her natural ability to understand and work with animals, Heather's passion for dogs has inspired a career working in the pet dog industry. She has a diverse background of experience and a foundation of formal education in many facets of the dog industry. Heather co-owns and operates a large, successful pet dog business.
Heather's diverse background is the driving force behind the unique, customized way that she approaches all of the dogs that she trains, and the dogs she cares for at Good Dog Ranch & Spa. With a strong understanding that every dog/human team is unique, she strives to help bring back the fun in that relationship at the same time teaching dog owners how to encourage wanted behaviours in a positive, healthy way.
Heather has been actively working in the dog industry for 20 years. In those years, she has had the privilege to learn from different animal professionals, with diverse experience in the field.
Heather shares her life with three rescue dogs.
---
Cat Barrette
Student Mentor & Social Media Coordinator
Cat began her career with animals at a young age. Her first job was Care Attendant in a zoo where her passion for animal behaviour was sparked. Cat spent a good deal of time observing wolves interacting and so began her passion for animal behaviour. She grew up with horses, but always had a special place in her heart for dogs.
Cat decided to take her passion and love for dogs to the next level and began her formal education and professionally training dogs. She completed her first certification in Quebec where she grew up. Cat completed her MCP (Cyno-Professional Level 2) in applied ethology and then moved to British Columbia and completed her Professional Pet Dog Trainer Program with Good Dog Academy.
Cat has not only worked with pet dogs but has also raised private security canine puppies and trained security patrol K9s along with their handlers. She has a special spot in her heart for high drive working breeds.
Cat shares her life with Roman, a Labrador Retriever, who is a "failed" explosive detection dog that Cat adopted when he was retired from an explosive detection program. She continues to work hard with Roman who came to her with some reactivity issues and they continue to learn from one another.
Cat is fluent in both English and French.
---
Jamielee has always had a passion for helping animals. 

In 2021 she opened a small dog rescue where she resides in Ontario. Purple Paws is an organization committed to helping dogs in need and the organizations that support them.
Jamielee is a graduate of Good Dog Academy's Professional Pet Dog Trainer Certificate program and she uses her training to help rescue dogs who come into her care. She is a committed advocate for nature and animals. Her work with rescue organizations contributes to her philosophy that animals teach us about life and living together on this earth.
Jamielee has three dogs of her own and currently 3 dogs in rescue.
With a passion for photography, Jamielee has been servicing the Niagara region for weddings, families and pet photography for over 15 years. In her spare time she loves to play the guitar and take hikes with her dogs.
---
Why Choose Good Dog Academy?
We stand out from the pack!

When it comes to becoming a Professional Pet Dog Trainer, there's no better choice than Good Dog Academy.
SHOW ME MORE